Hello there how have you been?
Yes, I am actually here, right now and it did not take me 3 weeks (this time...)
Amazing things happen when you "meet" amazing people.
I have had the privilege lately to be part of some very special moments in some very special lives...
It began about 8 weeks ago when suddenly I had the one "convo" after the other on my Etsy Shoppe...
The air was full of October Weddings... It was amazing...
So... early in the morning suddenly there were several messages from this one young lady that was desperately searching for "the" perfect dress.
The skirt she had wanted was sadly for her too small of a fit.
So she bought a wedding dress listed in my shoppe that she actually really had set her eyes on!
She was going to wear it for her Bridal/Bachelorette Party!
I think I was more excited than she was...
After she ordered... she popped "the" question:
"Do you think you can make this?"
So I checked out the photo's and the video/music clip
Warning: do not watch if you do not like country music! lol
Do come back and read the rest...
I was so inspired and in love with that dress and the music clip that I in excitement said...
I can not copy completely since I really do not know how it was put together...
But I added... "It is a wonderful dress and I feel inspired enough by it to come as close as possible to create the same idea!"
And a temporary partnership was born...
But who would have thought or believed that it would turn out this gorgeous...
And the contact we had was sweet and wonderful...
A new friendship was born...
I wanted to hit the nail right on the head and reach that high impact "Feminine Grade"
and make sure it would reach the "very Sexy yet still covered" level.
So... now you wonder... "What was this dress for and why did she need two dresses?"
To keep my kiddo's in shoes... - Joking yet there is some truth in it... (wink)
Did I tell you I have six!
Sorry to admit though that even though I am very happy (Now) with how it turned out...
When I was half way through the project I was upset and almost wanted to give my client her money back.
In my eyes I could not do it and thought I over estimated my sewing skills.
It had become "the nightmare dress".
But several text messages and conversations with my hubby and him advising me... studying... and calming me down...
I suddenly saw the light!
The dress was shipped one week later
(and arrived 2 weeks ago at her home in Colorado).
My client wanted a dress for her Rehearsal Dinner Party which will be this evening!
And this is what she will be wearing...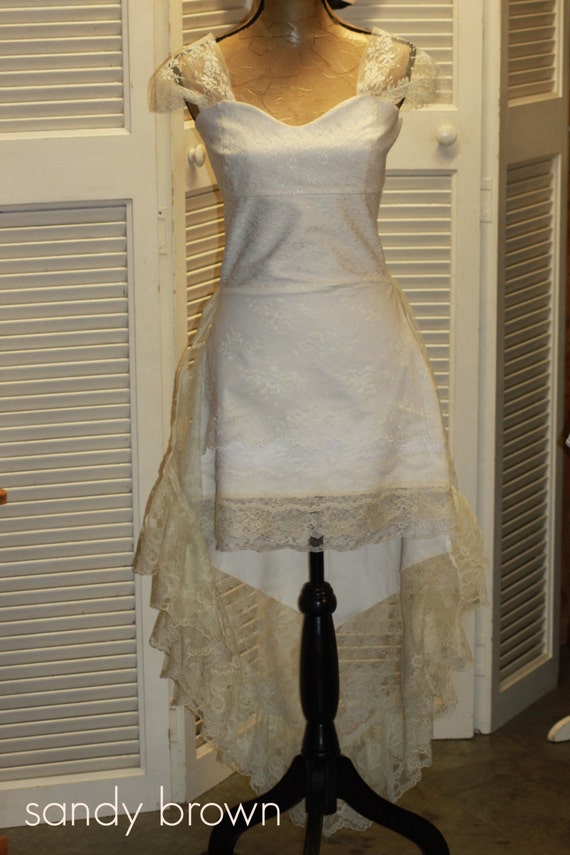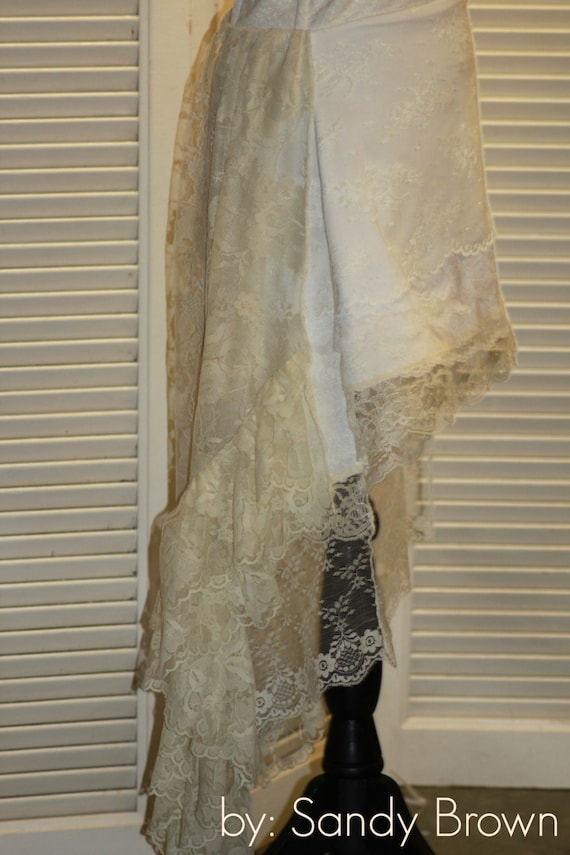 I am sorry that a dressform/mannequin does not really do this gem any justice...
This dress was made with new and used lace.
Just about 1 week before it was finished I found in a local thrift boutique wonderful soft vintage lace curtains.
I am almost sure that they were at least 25 years old.
They had the perfect ruffled edge and colour.
I knew exactly what I was going to use one of the panels for... (do know I bought all the panels that were available).
The top of the dress was made by making a bustier/corset cup top.
The back has shirring for some give...
So my client will be able to wear the dress even after gaining or loosing a little bit of honeymoon pounds.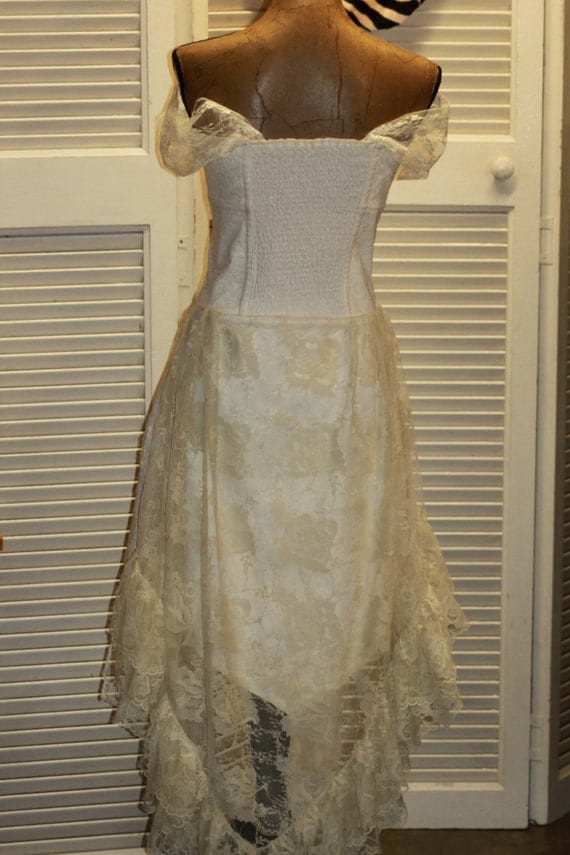 The back panel is cut in an angle (it seems).
However... the under that is more of a solid fabric I made myself and added lace at the edge.
Over that starting at the back at the waist I added the curtain panel.
And turned the panel, gathered the largest width had the ruffles at the side going down in a point.
It came together perfectly!
Luckily I had used some satin ribbons to cover the seams on the inside to give it a more professional touch and hide ugly seams as well.
Also... I found that by covering the seams it would be more comfortable to the skin as well.
Since I thought the bodice was a little bit heavy...
I needed a heavy look to keep the bodice from being see through...
I noticed that the bodice was sagging a little here and there...
So I decided to slide boning through the satin covering the seams and use it as a casing!
The bodice became more stiff and looked wonderfully finished.
The cap sleeves in the video did not have a real function.
I decided to add them hanging to the side...
And I stitched them on by using tiny little slip stitches and stitched them by hand.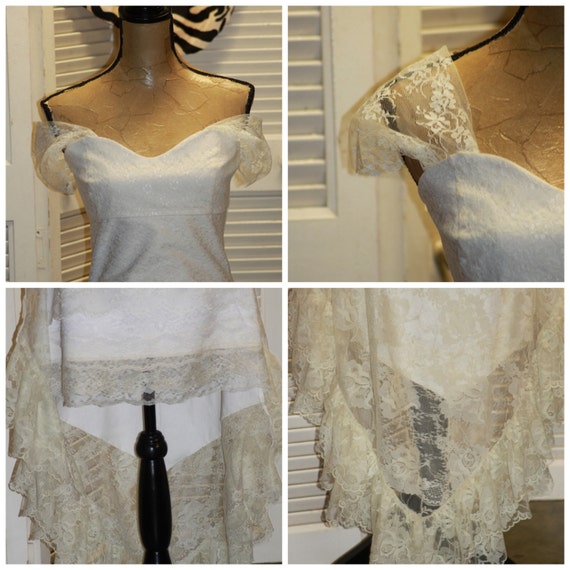 Since it is/was a custom order I do not do photo shoots in a clients' order.
I will however very soon make another and have it available and ready to ship in my Etsy shoppe.
I need one in black! (for Moi...)
Here is a picture that I borrowed from Pinterest...
The original dress worn by Karen Fairchild - Little Big Town
An amazing Band of Country Singers.
I am extremely happy with how it turned out!
She wrote me a convo and cheered so loud that it felt she was in my sewing cave (work studio)!
She said that she is extremely happy with her new favourite dresses...
(Amazing... they were made by me... with help from the hubby - of course)
And when my clients are happy...
That is what makes me happy.
Do you have a favourite little dress?
I would love to hear what it looked like...
I wish you a wonderful weekend!
XOX